Ancient Ostia
The tradition attributes the foundation of Ostia to Anco Marcio fourth king of Rome lived in the second half of the seventh century BC. However, the presence in the age direction of a town near the mouth seems to be accredited for the existence of the salt marshes near the mouth of the Tiber, which produced an invaluable asset and indispensable as salt.
The production of this, used both for Food and for the storage of food, had to be necessarily placed under control, as the historian Tito Livio and the mouth of the river became strategically of fundamental importance to Rome.
Port of the Tiber was for many centuries the primary means of communication, and port of the Tyrrhenian Sea, which has always been essential for trade policy and the Roman military. Its character as a market town and reconciliation of important communication routes (Tiber River and the Tyrrhenian Sea) with the capital of the ancient world, has led to Ostia, initially equal to and perhaps even Rome itself, a cosmopolitan city, where there were different races and cultures.
Its inhabitants were, according to the profession, grouped in associations, with different languages and religions. This is testified by the emples dedicated to local deities as well as in Mitra (Persian), Cybele (Phrygian), Isis (Egyptian). Recent is the discovery of a synagogue which can be the oldest known Jewish Synagogue in Rome.
The ruins are beautifully preserved and they provide an amazing glimpse into daily life in ancient Rome. By the 2nd century AD, Ostia had become a flourishing commercial centre inhabited by 100,000 people, whose apartment buildings, taverns, and grocery shops are still intact with wonderful mosaics decorations of the pavements and frescos.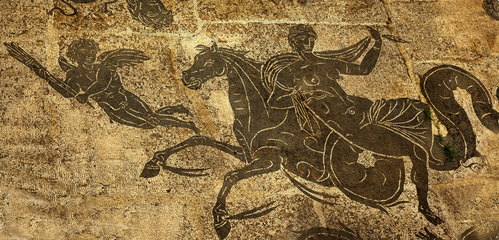 ANCIENT OSTIA - RATES


OPTION: Private Licensed Guide (3 hrs): 150.00 EUROS

5% Senior Discount For the Over 65
We can modify your tour in any way to meet your complete satifaction
Night Surcharge (22.00 – 6.30am): 10% per Vehicle.


Our rates include all taxes, tolls and parking



EXTRA INFORMATION:
Duration of this daytrip: 4 / 6 hours.
Comfortable walking shoes are recommended.
You can get the tickets to sites on the spot – Euro 11 per person for Ostia Antica.
The vehicle will escort you for the entire tour.
Please note that the driver will not enter the sites but give commentaries of what you are seeing.
Our rates do not include private tour guide, entrance fees or meals.
PAYMENTS:
All rates are quoted in the Euro and are only payable in the Euro currency, at the end of the services.
Tips are not included in our rates and are not mandatory. Normal tips range between 5-10% depending on your satisfaction.